Note: This is an article from 2004 used to illustrate that good ideas are not always successful. This product did not make it.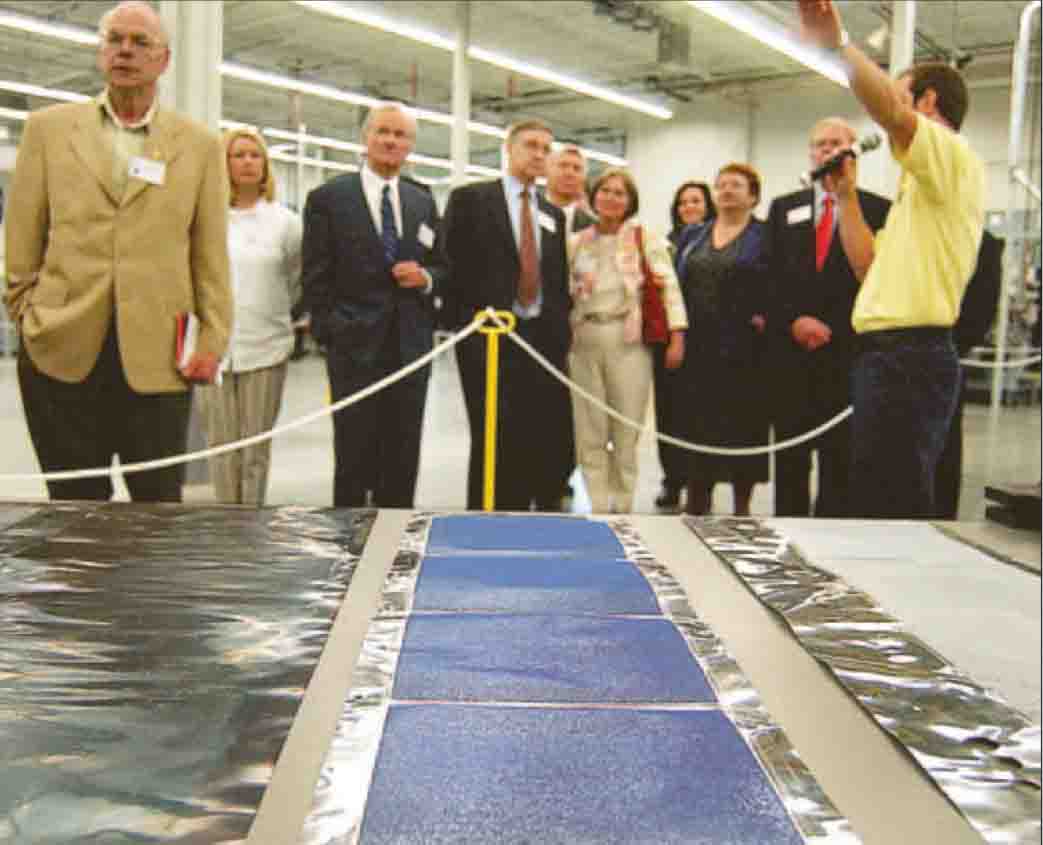 SIMON TURNBULl, RECORD STAFF
ATS opened its Spheral Solar Power plant in Cambridge yesterday. Eventually, the Reuter Drive facility will employ more than 200.
New solar cell system unveiled in Cambridge Canada
BY ROSE SIMONE
RECORD STAFF
CAMBRIDGE

Twenty years after conceiving it, Jules Levine saw and touched the realization of his dream. "It is a wonderful thing to see. I could imagine it, but the reality is something else," Levine said as he touched a new type of solar cell he originated two decades ago. It was manufactured using glittering, state-of-the-art equipment in the Spheral Solar Power Inc. plant that opened yesterday and is nearly ready to start shipping products.
The plant is a division of Cambridge-based ATS Automation Tooling Systems Inc., which purchased the technology originally developed at Texas Instruments. Levine is now 66 years old and living in Santa Clara, Calif., where he is a patent writer. But 20 years ago, he worked at Texas Instruments, where he originated a method for turning tiny spheres of cheap silicon into solar energy cells.
But at that time, the automation to make useful solar panels out of the spheres, each less than a millimetre in diameter, didn't exist. It involved hand labour. The process was too difficult and expensive to be practical. "In the early days, we were lucky to get a cell the size of your thumb," Levine said. Now, on its pilot line, the Spheral Solar plant has already produced the world's largest crystalline silicon solar cell with an energy-producing surface four times larger than conventional solar cells.
The new $100-million Spheral Solar plant will be ready to start shipping its first products at the end of this summer. About 115 people have been employed already, and Spheral Solar's president, Milfred Hammerbacher, anticipates that nearly 100 more, including many skilled machine operators, will be hired over the next nine months.
Eventually, the newly-built facility on Reuter Drive in Cambridge will employ 220 people. The opening ceremonies were attended by Jim Peterson, federal Minister of International Trade, and Donna Cansfield, Ontario's parliamentary assistant to the energy minister.
Politicians from all government levels were in awe as they toured the 193,000-square-foot plant. Large yellow robots, semiconductors, huge high-temperature vaults, precision automation machines and highly sensitive light testing equipment are used in the process of making the new solar cells. There are more than 40 patents involved in the technology. Klaus Woerner, president of ATS, received a standing ovation for being visionary enough to bring this technology to the marketplace. It will revolutionize solar energy, Woerner told the audience. Levine credits both Hammerbacher, the man he hired at Texas Instruments in the early days, and Woerner at ATS for making it happen. ATS stood by the technology in the early days when people couldn't see the potential," he said.
At first, Texas Instruments was going to contract ATS to develop a factory, but the company decided to sell the solar project in order to focus on core technologies. Ontario Hydro took it on, but didn't commercialize the technology. It was sold to ATS, which put its money and high-tech expertise into the project.Hammerbacher said numerous dedicated government officials were also involved in making it happen. Technologies Partnerships Canada provided $29.5 million, which is repayable,
to help get the plant up and running. The first Spheral Solar product in the field will actually be a 20-kilowatt solar array for the roof of a new Region of Waterloo Emergency Medical Services Fleet Centre. But the company will also soon start shipping its portable solar said. "There is very little off-the-shelf equipment in here. It is all custom-made, so there has been a lot of invention, development and prototyping over the last two years."
Hammerbacher said the official opening is only the beginning of his dream. He told the audience that he dreams of every new home being built with a solar roof producing more electricity to be given back to the electricity grid than is taken from it. He said he dreams of flying into an airport, and seeing millions of square feet of industrial roof with the sparkle of solar energy producing electricity. "In my dream, the children in poor countries around the world will no longer drink contaminated water because they will have clean water purified by solar power systems," he added "In my dream, we will all breathe cleaner air," Hammerbacher said.
This email address is being protected from spambots. You need JavaScript enabled to view it.